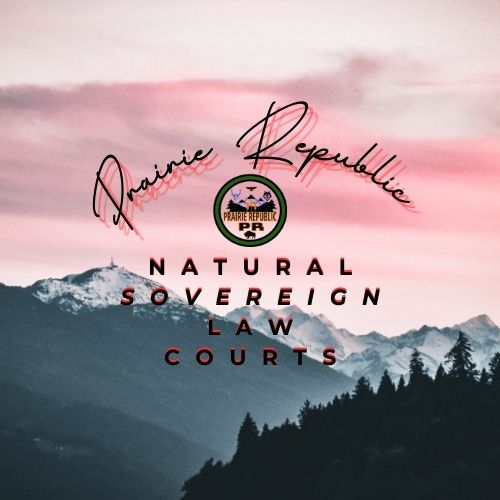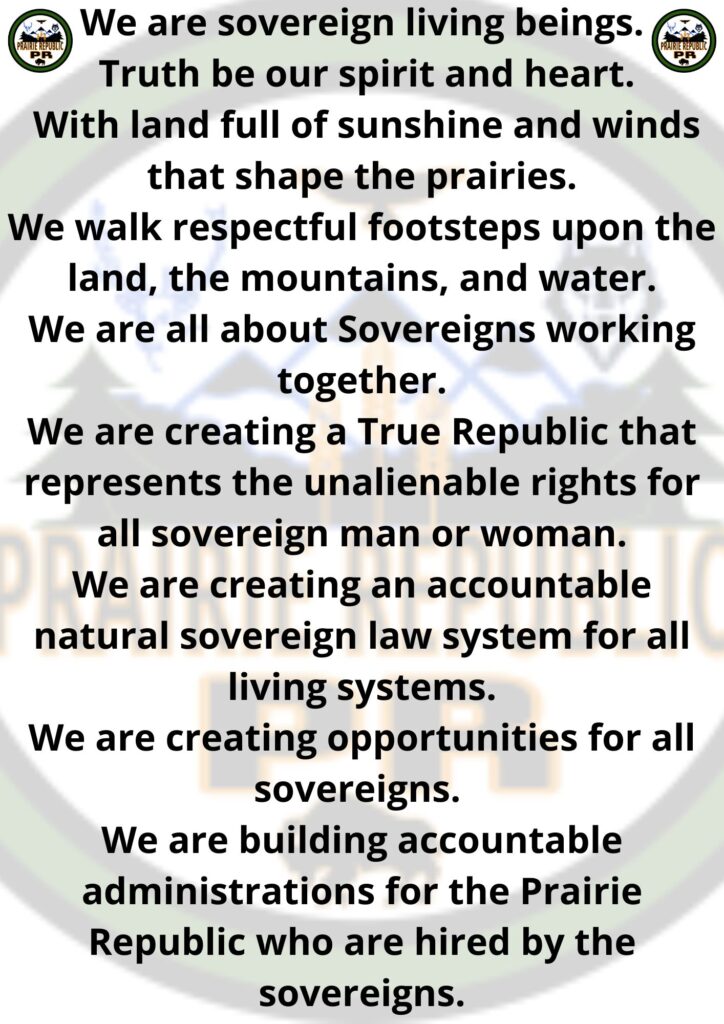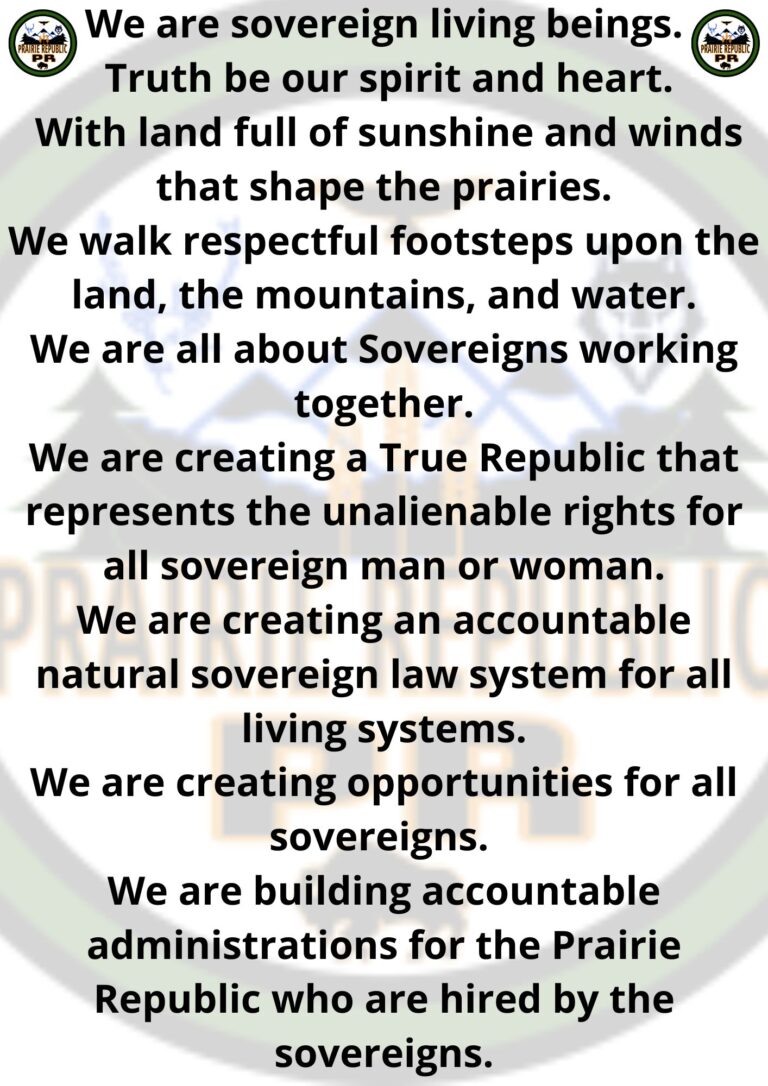 ADJUDICATOR/COURT ADMINISTRATORS/COURT BAILIFFS/COURT OFFICERS/COURT REPORTER (STENOGRAPHER)/COURT MEDIA REPORTERS
WHAT IS NATURAL LAW ADJUDICATOR
ADJUDICATORS
Presides over natural sovereign law court procedures. Mediates law disputes pertaining to sovereign issues. Adjudicators are not judges. Adjudicators set up and run the natural sovereign law courts.
Responsibilities of an Adjudicator
Power to take the initiative in ascertaining facts and natural sovereign law.
Power to resolve disputes in their own region and jurisdiction of the Prairie Republic.
Power to make directions and decided procedures in a natural sovereign law court.
Natural Sovereign Law Advisor
Power to design the courts and layout of procedure.
Power to give court orders and grand jury court orders with the help of the Sheriff in your region of the Prairie Republic.
Power to submissions of all court documents, provisions and additional court submissions.
How do you become an Adjudicator
Adjudicators must be fluent in natural sovereign law. Fluent in English. Good writing skills. Excellent communicator. Sovereigns wanting to be an adjudicator are hired by the sovereigns of your region. All adjudicators are hired by the sovereigns of their region and are accountable to the sovereigns of that region. All adjudicators are hired on contract bases starting at 2 years and can be extended if the sovereigns want to extend the contract.  Adjudicators are trustworthy, reliable, upstanding sovereigns of the community.  All hired Adjudicators take the affirmation of office to uphold the constitution and natural sovereign law.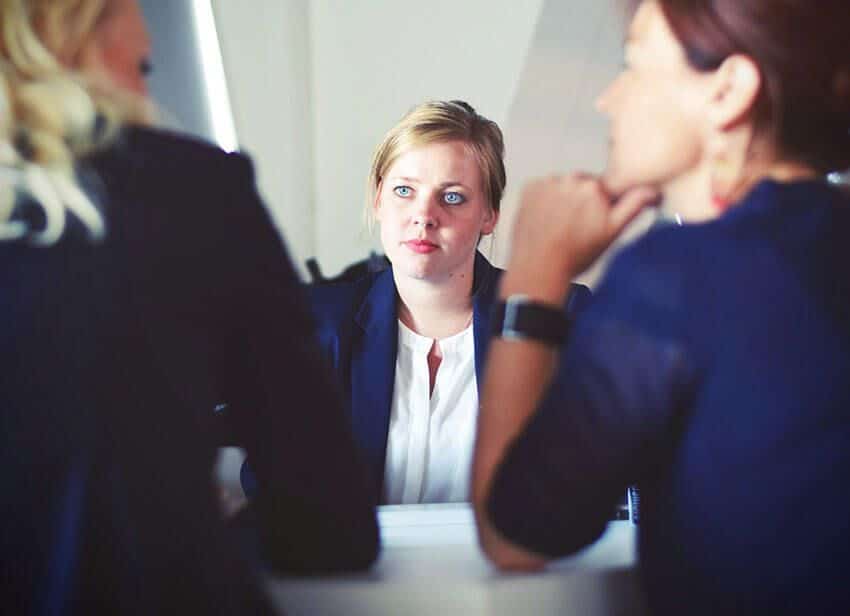 "NEARLY ALL SOVEREIGNS CAN STAND ADVERSITY, BUT IF YOU WANT TO TEST A SOVEREIGN'S CHARACTER GIVE THAT SOVEREIGN POWER".
ADJUDICATORS
An adjudicator is non biased and impartial third party to all disputes by the sovereigns. An Adjudicator carefully listens and considers all the evidence to bring the parties to an agreement of remedy. An Adjudicator does not lead to the final decision, all parties are given the opportunity to present their case and evidence, the adjudicator is there to mediate and bring both parties to an agreement and a remedy. An adjudicator decides on when, how and who are to be in the court according to the case and evidence. The Adjudicator appoints experts, conducts investigations, preserves evidence, approves media, makes contracts with parties in dispute, selects jurors for the grand jury, approves budgets for the court system and departments, approves renovations or improvements, meet and questions both parties in dispute and makes contract with them. The adjudicator is a mediator NOT A JUDGE.
"Strategy without tactics is the slowest route to victory.
Tactics without strategy is the noise before defeat."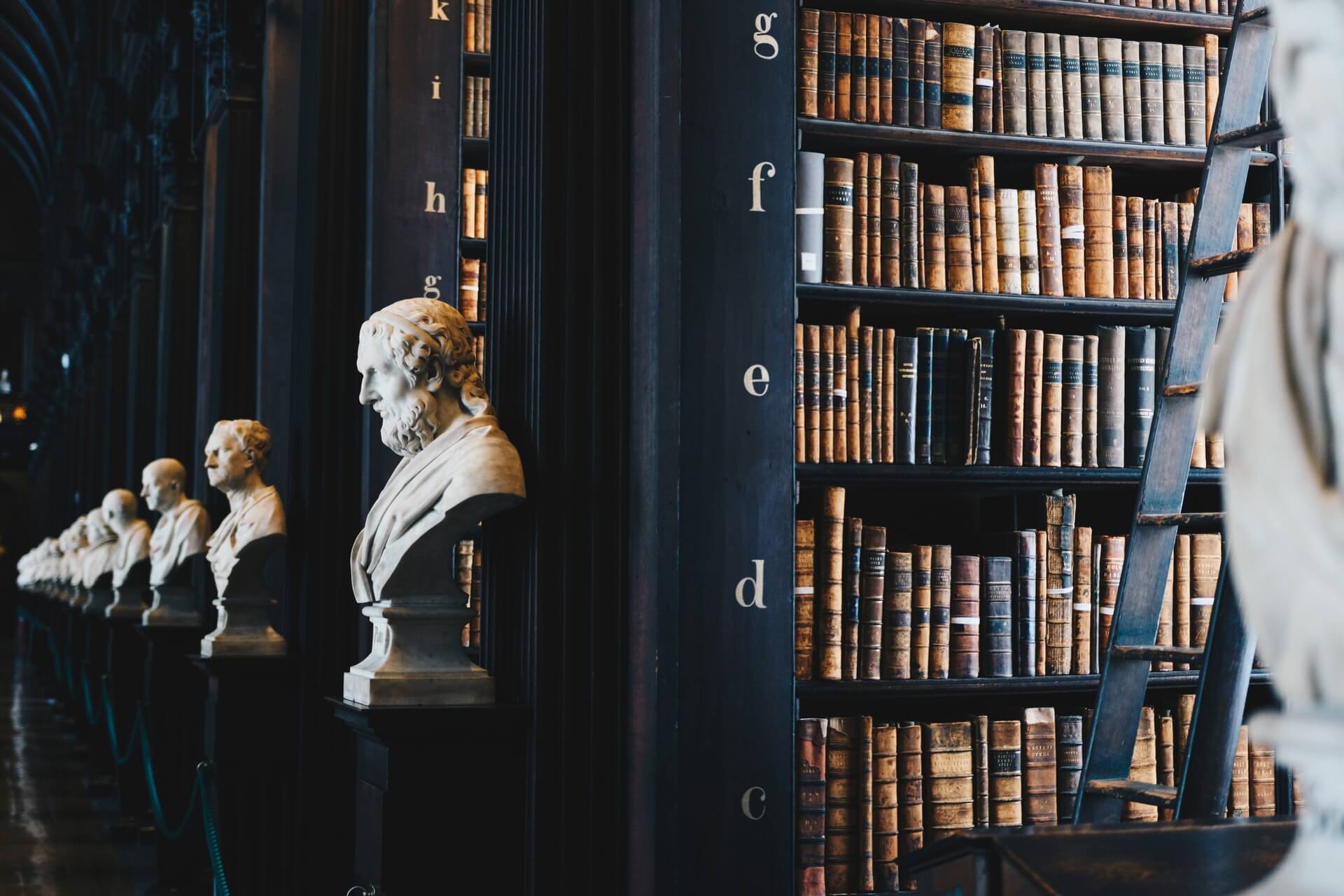 NATURAL SOVEREIGN LAW
HISTORY OF NATURAL LAW
Natural Law was hijacked in 1666 and changed to accommodate the Roman government. They lied to the sovereigns to make the change by tell ing them that this was for the good of all common people.  The Romans appointed judges to repplace the original Judex.  The Judex, was a mediator like our Adjudicators, they were one of the same.  Adjudicators are not judges only mediators. As time went on the Romans and the Vatican got involved and also the British Royalty and they renamed Natural law to Common Law and eventually all moved into Admiralty Law to where we are today, an unaccountable system.  Today Common Law is contracted and controlled by the government, many mix it into Natural Law which is  totally corrupt and a slap in the face to our creator.  The only true Law of the land is Natural Sovereign Law.
---
Natural Sovereign Law is based on the maxims of love, which means the statements of truth.
Natural Sovereign Law is the practice of maintaining wholeness among all living systems.

Natural Sovereign Law is intrinsic to sovereign nature and requires no proof.

Natural Sovereign Law is eternal by nature, where truth is absolute.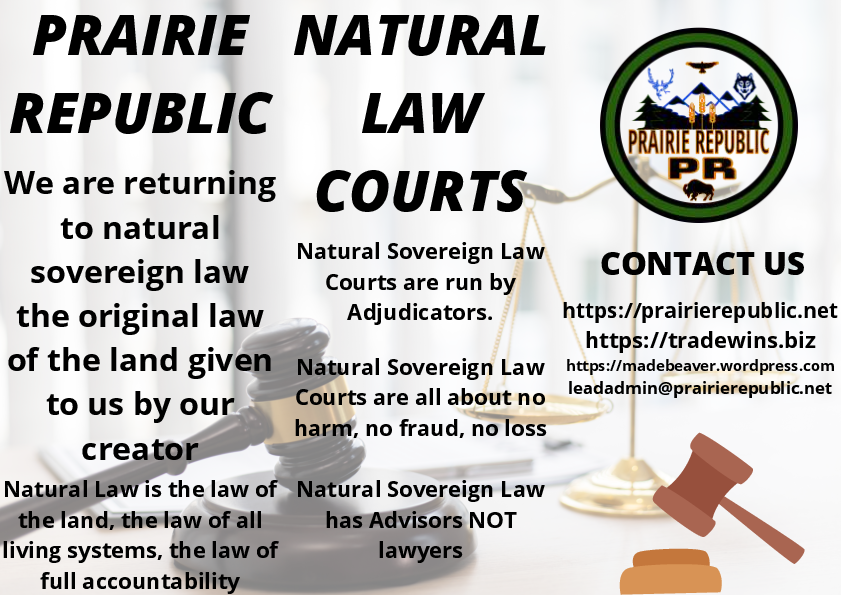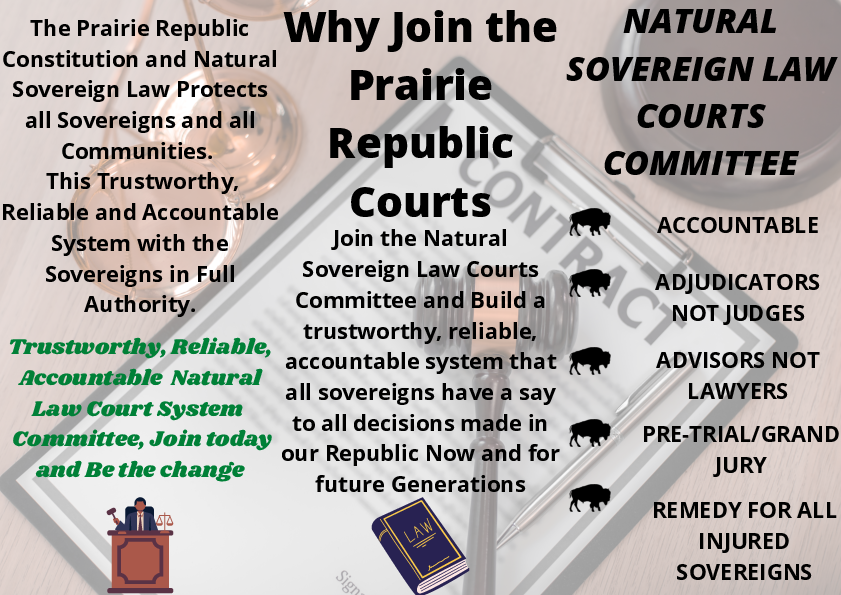 NATURAL LAW VS. COMMON LAW
Court of Ages, clearly and simply showing the differences between common law and Natural Sovereign Law.
Many people think going back to common law in the courts is the solution to our current problem in the corporate court arena. However, when you note the differences between common law and Natural Sovereign Law, you will see that Natural Sovereign Law strips the hierarchies out of the system down to the immeasurable power behind it: the Sovereigns.
Common Law
A form of private law that governs relationships between individuals inclusive of Law of Contracts, Law of Torts, and Civil Law (labour law, commercial law, corporate law). Based on precedent 1886 ruled that corporations are considered "artificial persons." having the same rights as human (prior decisions of formal courts and judges); past time-space.
Hierarchical (judges are deemed authority figures). "Judges are appointed (selected) by politicians". Judges are holders of an office as a career and are often viewed as politicians. Lower courts are subject to higher court decisions. State or federal judges often rule on cases from outside their own community. A court is a permanent institution set up and operated by the government.
Natural Sovereign Law
Governs all life; is determined by nature and thus, universal. Based on Sovereigns sensibilities in present time. Non-hierarchical (Adjudicators carry no real authority). Adjudicators are to serve on a case-by-case basis and agreed upon by both parties in a dispute. Resolution remains in the local community. Adjudicators are respected community members.
A court is a group of community members who come together for the express purpose of assisting in resolving a dispute. Members of the court are selected by the community and agreed upon by both parties in the dispute; members are only for the duration of the particular case for which they are assembled.
Common-Law Grand Jury versus Natural Sovereign Law Grand Jury:
Here are the differences between
Common Law Grand JURY
All grand juries abide by a same set of prescribed rules. Jurors must agree to prescribe to written laws or decrees such as the Outdated Magna Carta (1215 A.D.) or De-Facto Bill of Rights. There is 23 – 25 jurors. Jurors are required to swear or promise to uphold the grand jury rules. (Swear an oath to the queen "Not to the Sovereigns") All decisions are made by majority vote. No decision of a grand jury is reviewable in any court of the government. Jurisdiction includes any government transgression, breaking of articles of peace or security, and anyone abused by the government. Grand juries investigate potential crimes and come to a decision to indict or not indict by issuing a "true bill" or "no true bill." Grand jury decisions stand as law.
Natural Sovereign Law Grand Jury
Grand jury guidelines may vary according to the requirements of each community (community based). Jurors are required to verbally affirm to execute their duties honourably. There should be 12 jurors. Decisions are made by unanimous vote. Grand jury decisions are final. Jurisdiction is whatever the parties in dispute decide upon. Grand juries investigate evidence of crimes and come to a verdict and the sentence to the crime. Grand jury decisions stand as Natural Sovereign Law
JOIN THE NATURAL SOVEREIGN LAW COMMITTEE, BECOME AN ADJUDICATOR, A COURT ADMINISTRATOR, COURT BAILIFF, COURT REPORTER.  
EMAIL : [email protected]
COURT CASE OF MP LITTLECHILD
WETASKIWIN ALBERTA 1990 GST TIMELINE

The Court Case of the MP Littlechild and it was in this case I realized the corruption of our Legal system. 
 This MP got voted into office because he promised the sovereigns of Wetaskiwin NO GST, he lied, they took him to court, the judge informed the sovereigns of Westaskiwin you have no rights in this court and Mr. Littlechild is not accountable in this court.
Yes we have no rights the charter of rights protects the employees of the corporation.
Yes we have no laws we have criminal codes which they create without our say and these codes/laws do not protect us sovereigns.
Our corrupt system is build on 5 pillars, common law, civil law, admiralty law, bar law, and defending these pillars is our atorns/lawyers yes they designed this way to enslave us all.
We have no rights, we have no laws to protect us. Time to change the system, Time to walk away and build an accountable system.  Here I decide that MPs are all corrupt and I stop Voting it goes nowhere.
https://www.bitchute.com/video/GTQ8VxnwqXw8/
Below is the complete Case of Wilton Littlechild.
WILTON LITTLECHILD, M.P. v. Citizens of Canada
Docket No. 9012000725
IN THE COURT OF QUEEN'S BENCH OF ALBERTA JUDICIAL DISTRICT OF WETASKIWIN
BETWEEN:
ERIN WALL, PIETER BROER, IRENE LOVELL, JOE KURTA
JAMES MANN, KEITH BEEBE, LYLE LINK, and DALE HATALA
as and for the constituency of Wetaskiwin and the Citizens of Canada
PLAINTIFFS
– and –
WILTON LITTLECHILD, M.P.
DEFENDANT
REASONS FOR JUDGMENT
Wetaskiwin, Alberta
10th December, A.D. 1990
Proceedings taken in The Court of Queen's Bench, Law Courts,
Wetaskiwin, Alberta.
10th December 1990
                     The Honourable Mr. Justice, E.A. Marshall Justice of The Court of Queen's Bench of Alberta Molstad, Esq.                             For the Defendant Wall For the Plaintiffs
Official Court Record 
THE COURT:
Thank you.
Well as you suggested and conceded Ms. Wall, it appears clear to me that the Statement of Claim must be struck out — that legal proceedings are not the correct forum to seek the relief which has been sought.
Counsel for Mr. Littlechild have outlined the law.
The Statement of Claim alleges a failure on the part of Mr. Littlechild to consult with the constituency members and a failure on his part to account to them, further failing to ascertain their views in voting for the government's goods and services tax and failing to adequately represent their views in his voting for the government's goods and services tax.
It appears that the action is a claim of a breach of duty on the part of the M.P. of the Plaintiffs. It seems clear on the authorities and I note in Roman Corporation which has been cited, that if I have any doubt on this application, as to whether the Plaintiffs have a cause of action, I must give the benefit of that doubt to the Plaintiffs and refuse the application and leave the matter to be decided at a trial.  However, I am satisfied the Plaintiffs have no cause of action against the Defendant. I know of no legal duty on an elected representative at any level of government to consult with his constituents or determine their views. While such an obligation may generally be considered desirable, there is no legal requirement.  I adopt the quotation from the trial in the Roman Corporation case, where he said:
"It is of the essence of our parliament system of government that our elected representatives should be able to perform their duties courageously and resolutely in what they consider to be the best interests of (the Government of) Canada ( Inc.), free from any worry of being called to account anywhere except in parliament.  So, it appears to me that the only remedy existing for the Plaintiffs is the remedy provided by our Constitution in the right to vote in a future election.  I note also that the prayer for relief gives some difficulty  They request an Order of the Court recalling the Defendant to account to the Plaintiffs in his constituency for his actions in parliament. I would be inclined to strike the Statement of Claim on that paragraph as well. But I note they do make a prayer for such other relief as the Court shall deem just which probably is general enough that the action could not be struck out on that account alone.  So I am satisfied that no court can compel the Defendant to account to his constituents and just to show you what really occurs in this application, Ms. Wall, what I am really assuming for the moment is that everything you have said in the Statement of Claim is correct. Even if that is all true the Court can't give you assistance because in the drafting and the exercise in the use of our constitution through the decades, it has been the wisdom of our Fathers of Confederation and others that M.P.'s must be given a right to carry out their duties without any worry about being called to account during their term of office.
That is the way our constitution was drafted and I must take judicial notice of the Act which relates to Members of Parliament, the Parliament of Canada Act, that the members of the House of Commons enjoy all the privileges and immunities of Members of Parliament, Parliament of the United Kingdom.  So, under the circumstances I am dismissing – – or I am allowing the application to strike out the Statement of Claim and it will be struck out accordingly
WE ARE BUILDING TO PROVIDE THE BEST FUTURE FOR THE PRAIRIE REPUBLIC
CONTACT US TODAY AND JOIN THE SOLUTION A TRUE REPUBLIC CONSTITUTION WITH NATURAL SOVEREIGN LAW