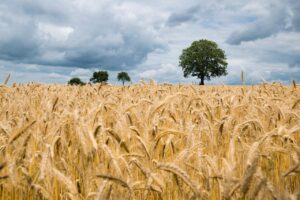 FOOD SOLUTIONS & AGRICULTURE ADMINISTRATION
FOOD SOLUTIONS & AGRICULTURE QUESTIONS & ANSWERS
WHAT ACTUALLY HAPPENS WHEN SOIL DIES AND COLLAPSES?
Across the world we have many examples of what happens when soil dies and collapses. Every dessert in the world is an example of this. For the purposes of our discussion let's use the Sahara Desert as an example of soil collapse in the past and then in the present let's look at California.
The Sahara was once a green verdant place that was cultivated and farmed. Archeological evidence shows that as well as it being an area that became urbanized with huge city structures. The Sahara today is a desert with only the occasional oasis of water, little to no rainfall and no actual soil to cultivate crops. All that's left after soil dies is sand and sand is composed of tiny rocks, crystals, and glass. There are no nutrients, or biomes to interact and nurture plants or most animals. Humans can barely subsist in a desert. This process in the Sahara happened a long time ago and no one claims to know why it turned to desert. Yet we are seeing the same process in real time right now in California.
California 75 to 100 years ago was rich and green with good rainfall, great soil for growing and was a polyculture of family farms, homesteads, and ranches. This was all prior to WWII. What happened after WWII began the process we see today. Farms started monocropping and using chemicals for fertilizer and pesticides rather than fertilizing with manure and controlling pests through polyculture farming of many different crops that naturally repelled pests instead of monoculture single crop farms that had no natural defence against pests.
But this all it took to start turning California into a desert with dead soil. Population centers grew, hug urban areas developed and these areas started taking the ground water away from agriculture. With the expanse of people, and concrete cities the rains slowed in urban areas as you need trees to make rain. The cloud seeding to fill reservoirs for hydropower rather than for crop production was also happening and this also contributed to desert creation as the clouds then didn't have the moisture to make rain elsewhere.
With the lack of many varieties of trees, poor forest management and the constant urban demand for water, the temperatures got hotter, and the fires started which is now an expected annual event. If you compare California maps from100 years ago to now the difference is alarming. California will be the new Sahara.
This is what happens then the soil dies and collapses. But let not end this on such an unhappy dire note. The creation of good soil is easy and quick, creating verdant land to grow food is possible even in desert conditions which we saw in the state of Israel back in the 1950's. How did they do it? Goats and human poo, some water, and human biodegradable trash such as paper products and food waste. Composting is soil creation. When they had some soil, they started planting a variety of trees, shrubs, and edible plants, which started bringing rain and the desert began to bloom.
I have been talking to urban planners in a number of areas for over 20 years about the need for tree canopies and living roof system to be on all urban and suburban structures to keep the rain coming and bountiful as well as having edible landscapes and green spaces will not grass but with clover and other flowering crops for food and pollinators. I haven't seen anything happen, so I decided to do it myself and started planting trees, giving trees, making food forests and permaculture orchards everywhere I lived. In towns, cities, suburbs. I know for a fact because I measure it, where my houses were in different setting the temperature was an average of 5 degrees cooler in summer and 5 degrees warmer in winter as I covered my property in edible plants and trees, used only natural fertilizer (poo) and no pesticides as the plants took care of each other.
I want to encourage you to do what you can as well, no matter how small. It makes a difference. Soil death and collapse can be fixed, it can be stopped. Just don't give up.
WE ARE BUILDING TO PROVIDE THE BEST FUTURE FOR THE PRAIRIE REPUBLIC
CONTACT US TODAY AND JOIN THE SOLUTION A TRUE REPUBLIC CONSTITUTION WITH NATURAL SOVEREIGN LAW