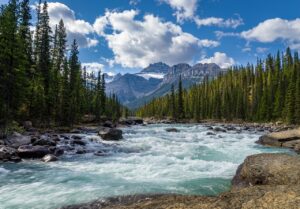 NATURE & WILDLIFE RESTORATION FOREST RANGER
What is the purpose of Grass, Flowers and Trees?
This question deals with how living ecosystems stand together in ways that allow for their individual existence and coexistence with one another.
There is a symbiotic way that each provides for the others by sharing the same space.
All are fed by the elemental spirits of earth soil; the water element of rain distributes micronutrients to the root systems and microfilaments join all through extraordinarily complex communication systems.
There is as much going on below the ground surface as above it that's mirrored in the health of plant life.
The air elemental distributes seeds for the sustenance of all the various species and successive generations of life in the earth's ecosystems in a dynamic balance.
The plants all have their own life cycles that change and adapt with weather systems and seasonal flow patterns.
The human presence in these systems can be beneficial or detrimental to the environment.
Humans are not separate from the web of relationships.
This is an important aspect of Natural law and how we as humans learn through our actions what effects we carry in our mindsets will have on the life we are an integral part of.
We have witnessed the extinction of plant species since the inception of the industrial revolution where we are competing rather than cooperating with our ecosystems.
Education plays a key role in our present and our future.

Under natural law there is

no ownership

of the land the sovereigns live on.
All land belongs to the creator and we as man and women are given stewardship as a trust gifted to us for all to share.
Due to a long period of colonization, the original purpose of the creator has been turned into the present state we find ourselves in today.
This is something to contemplate as we go about our daily lives on mother earth.
The message from Chief Seattle reflects the view of the sovereigns who lived on this land prior to the time of arrival by Europeans. 
WE ARE BUILDING TO PROVIDE THE BEST FUTURE FOR THE PRAIRIE REPUBLIC
CONTACT US TODAY AND JOIN THE SOLUTION A TRUE REPUBLIC CONSTITUTION WITH NATURAL SOVEREIGN LAW